Pool Prices
Considering adding a swimming pool to your backyard? One of your first questions will be – how much is it going to cost? It is important to consider the following factors when comparing different pool prices.
The Type of Pool
Homeowners have an abundance of options when deciding on the type of swimming pool they would like to install. Firstly, you must decide on whether you would like an inground or above ground pool. Secondly, you will need to select a type of pool. Assuming you are installing an inground pool, your options are concrete pools, fibreglass pools and vinyl liner pools.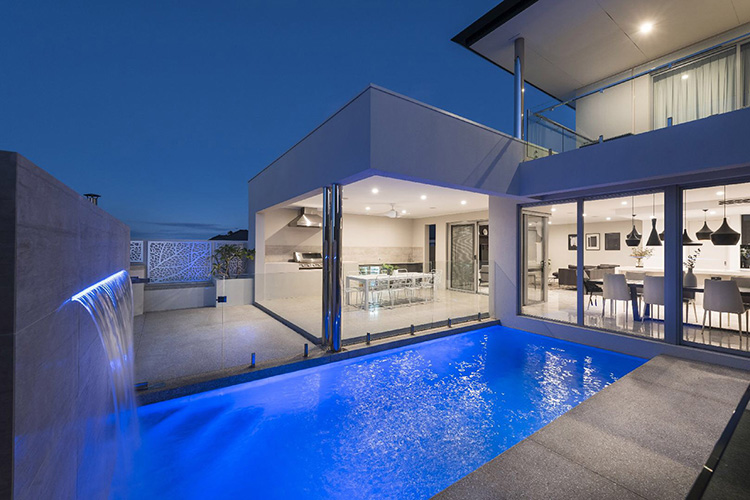 Vinyl liner pools are no longer a popular option in Perth. Therefore, majority of homeowners select a concrete or fibreglass pool. A fibreglass pool is a pre-designed factory mould that cannot be customised to your particular backyard's size and shape. Because the moulds are transported by road, they can only be designed to a particular length and width. Whereas, concrete pools can be designed and built to just about any size and shape that you can imagine.
Concrete pools can be built with a variety of surface finishes, for eg – pebbles or tiles. The different types will vary in price somewhat, so make sure that you are aware of what options you have and what they each cost.
Fibreglass pools typically start from $30K for basic entry level pools, and $60K+ for larger pools. The starting price of concrete pools is similar. However, because concrete pools are custom designed, they have a far higher top end price.
Installation
During the quotation process, the installer should visit your property to assess the slope of your yard, the soil type and the ease of access to your property. All of which, will dictate the price for installation.
Whether you decide to install a fibreglass or a concrete pool, selecting the best installer for your requirements is essential. Again, price is an important factor. Although by selecting a cheap option, your final product may be significantly lower quality. Read more about what to look out for when selecting pool companies.
Fencing, Gates & Features
As per WA State law, most new swimming pools must be built within appropriate safety fencing and gates. Your installer should be able to manage this process for you or provide a recommendation. This can be a costly process, so ensure that you consider this when calculating the overall pool price.
In addition, some homeowners require add-ons such as a water feature or a diving board. If you would like additional features ensure that this is included within your overall price.
Landscaping, Paving or Decking
A new swimming pool can provide hours after hours of fun for your family. However, without appropriate landscaping, paving or decking, the area is often underused and underappreciated. Decking is an expensive option, although it can provide a great relaxation and entertainment area. Paving is a more affordable choice and is easier to maintain.
Whether you require landscaping, paving or decking, ensure that you consider this when calculating the overall cost of your project.
Ongoing Maintenance
All swimming pools require some sort of ongoing maintenance in order to ensure that they are clean and safe. Concrete pools typically require a similar amount of ongoing maintenance to fibreglass pools. However, before you make a decision ensure that you speak with the pool company for advice and clarification of the ongoing pool prices.
Find Out More?
Contact Michael at Allia's Pools today to learn more about swimming pool prices in Perth.