Restoration of Concrete Pools
Is your concrete swimming pool looking old and tired? All swimming pools will deteriorate over time and will eventually need to be restored by a professional. The longevity (length of time that the pool will need to be restored from new) will depend on several factors including –
The frequency that you use the pool
What you use the pool for
The climate within your area
The amount of sunlight your pool receives
The balance of your pH levels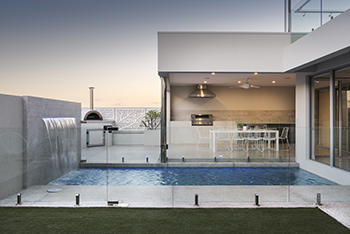 When Does my Pool Need to be Restored?
There are several indications that your pool may need to be restored including:
Leakage
Evaporation will cause the water level to drop in your swimming pool, particularly in Summer. However, if the water level drops considerably it is likely that the pool has an leak within it's topcoat and concrete shell. Leakages can cause significant problems to not only your pool, but also the surrounding area.
Discolouration
If the plaster lining of your swimming pool is losing colour or has permanent stains it may require restoration.
Uneven Surfaces
The plaster may also become uneven or rough in particular places around the pool and in extreme cases cracks may start to show.
What's Involved in a Concrete Pool Restoration?
The concrete pool restoration process will differ from pool to pool depending on what items within the pool require restoration. These items may include:
Resurfacing
This is the most common type of concrete pool restoration and involves replacing of the topcoat material on the pool. The topcoat can be constructed of various materials including stone tiles, glass tiles, pebbles and ceramic or porcelain tiles. Click here to learn more about pool resurfacing.
Plumbing
The plumbing in and around your pool may also deteriorate over time. This can cause leaks and potentially allow dirty water to fill the pool.
Water Features
If your swimming pool includes a water feature this may also require restoration. Water features are typically constructed with stone and concrete and depending on their volume of use, they may also require restoration.
Lighting
The globes, wiring and casing of pool lighting will also require replacing over time.
Equipment
The equipment used within your pool will likely need to be replaced every 5-10 years. This equipment may include Chlorinators, Filters, Pumps, Controllers, Heaters and Cleaners.
Cost of a Concrete Pool Restoration?
The cost to restore your pool will depend on various factors. For example, what items need to be restored and how badly damaged each item is. Most restorations are surprisingly affordable and will add significant value to your home.
Find Out More?
Contact Michael at Allia's Pools today to learn more about our quality concrete pool restorations.