Swimming Pool Companies
So you have made the decision to add a new swimming pool to your backyard. One of the first questions you will have is – What swimming pool companies are best for my particular project?
It is important that you speak with several swimming pool companies before you make a decision. This will provide you with a good insight in regards to what size, style and pricing options you have.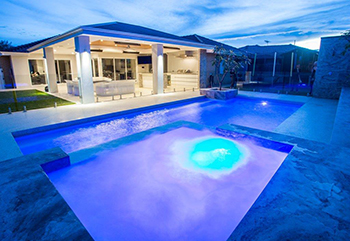 How to Select the Correct Swimming Pool Company
Here are some important questions that you can ask each company while in the research phase:
Are you fully insured?
What are your qualifications?
How long have you been in the industry for?
What options do I have in regards to the type or style of pool?
What options do I have in regards to surface finishes? Eg – Pebbles, Tiles etc.
Do your workmanship and the materials come with a warranty?
Can you provide similar examples of pools you have installed with testimonials?
What are the ongoing costs to properly maintain the pool?
Free Advice
The most experienced and knowledge swimming pool companies should be happy to provide free expert advice. Before a quote or pricing is discussed, they should gain a good understanding of your individual requirements. Furthermore, they should offer free tips and advice in regards to your best options.
On-Site Quotations
Once you have a shortlist of potential pool companies, you can request a free on-site quotation. Because every backyard is somewhat different, the company should visit your home to evaluate your landscape and requirements. An experienced company should consider the soil type, slope of yard, and the required function of the pool and surrounding area.
During this process, here are some additional questions you can ask to ensure you are dealing with a reputable company:
When will the project start and finish?
Will you be working or overseeing the project?
What time will you start and finish each work day?
What is required to maintain the pool once it has been installed?
Is it possible that there will be any additional costs not listed on your quotation?

Once you have a shortlist of quotes, consider the points above, make sure that quote each is comparable and do not focus 100% on the price.
We hope this article helps you select the most appropriate pool company.
Find Out More?
Contact Michael at Allia's Pools today to learn more about swimming pool companies in Perth.