Inground Pools vs Above Ground Pools
Are you trying to decide between an inground pool or above ground pool? The two options differ in many ways as we have detailed below –
Design Flexibility
Concrete inground pools can be built to just about any specifications as the design can be customised to your specific requirements. This is advantageous for families who would like a unique design or have an unusual shaped backyard. Whereas, above ground pools are only available in pre-designed styles and dimensions.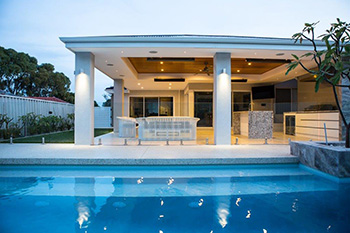 Enjoyment
Ease of access, larger volumes of water and more features are just three factors that make inground pools more enjoyable and practical.
Aesthetics
Inground swimming pools combined with modern landscaping, paving or decking can create a functional and aesthetically pleasing backyard. Furthermore, this area can become an oasis for relaxation and/or entertainment, depending on your requirements. By comparison, above ground pools do not fit as seamlessly into a backyard and can even be an eyesore.
Strength & Lifespan
A concrete inground swimming pool is significantly stronger and more durable than an above ground pool. Furthermore, a concrete inground pool will last for 50 to 100+ years depending on how it is maintained. Whereas, above ground pools typically only last for 10 to 25 years.
Property Value
An above ground pool adds little to no value to your home. Whereas, a below ground pool will add value to your property. In particular, if your below ground pool is coupled with modern landscaping, paving or decking, it will add significant value.
Price
Above ground pools are less expensive than inground pools. This is because the materials are cheaper and the installation process is quicker. It is important that you consider all factors on this page, rather than just the price, when making a decision. Find out more about the factors that dictate Pool Prices.
Transport
An inground concrete pool is fixed to your home so it cannot be moved or transported to another property. However, an above ground pool can be relatively easily moved from one property to another.
Safety
In some cases, an above ground pool can be safer than a below ground pool because it can be harder for children and pets to enter the pool. However, the safety of any pool will be dependant on the fencing and gates that surround the pool. The State government provides safety rules for pools and spas in WA.
Find Out More?
Contact Michael at Allia's Pools today to learn more about the advantages of inground pools in Perth.