Fibreglass Pools vs. Concrete Pools
If you have decided to install an inground swimming pool in your backyard you will need to decide between a fibreglass pool or concrete pool. Each style of pool has pro's and con's so it is essential that consider each point when making a decision.
Advantages of Fibreglass Pools
Fibreglass pools are typically more affordable and are quicker to install. Because the shell is a pre-built factory mould, it has already been constructed and therefore only has to be transported to your yard and installed. This significantly reduces the installation cost and time, in comparison to a concrete pool.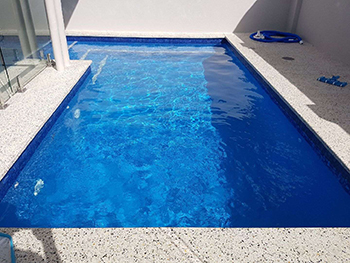 Advantages of Concrete Pools
By comparison, a concrete pool is more costly and takes additional time to install. However, there are many benefits including –
Design Flexibility
By selecting a concrete pool you can customise the size, shape and style of the pool, specifically to your backyard. This is beneficial for homeowners that want a unique design or have an unusually shaped backyard. Concrete pools also come with a variety of surface finishes which can add more personality to your pool.
Strength & Durability
Concrete pools are stronger and more durable than fibreglass pools. Furthermore, they have superior longevity. In many cases after a pool has been installed for 10-15 years, a fibreglass pool will have to be replaced rather than renovated. This can potentially reduce your long term costs by selecting a concrete pool.
Property Value
A concrete pool will typically add more value to your property because of its additional strength, durability and longevity.
Backyard Accessibility
In some cases when a backyard is difficult to access, a crane is required to move in a fibreglass pool. By comparison, a concrete pool is constructed within your backyard which reduces 'ease of access' issues and avoids expensive crane costs.
Summary
To summarise, fibreglass pools are ideal for homeowners with a minimal budget that are happy with an 'off the shelf' design. By comparison, concrete pools provide a stronger, more aesthetically pleasing pool that will last longer and add more value to your property.
Find Out More?
Contact Michael at Allia's Pools today to learn more about the advantages of concrete pools vs. fibreglass pools.